The first concert in the New Hall
Saturday 28th September
The James Holt Concert Hall, Monor Vale Lane, Kirkbymoorside, York, YO62 6EG
We had a full house for the Opening Concert. As far as we could tell, everybody enjoyed the event and it was a pleasure to play for you and great to play in the new hall..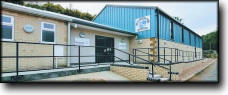 Open Day - Sunday Afternoon,
22nd September 2:30 PM.
Opening Ceremony 3:00 PM
What a great day, thank's for coming.