After thirty six years Les finally retired as Bandmaster in 1988 but continued to teach players, young and not so young, and was still giving lessons to a few players up until the last week of his life. His vision all those years ago continues today.
It was a fitting tribute that on his retirement he was awarded the British Empire Medal in recognition of his long and devoted service. To mark his retirement the Band made an amendment to its constitution to create the post of Musical Director, a position that he held until, at his request, he retired from the post in 2005.

Most of the players within the ranks of the current senior band can be grateful for the hands-on support and encouragement that Les continued to provide long into his retirement. So, it was with great warmth and affection that the band joined with his family and friends for Les' 90th birthday celebrations in October last year. Of course, Les had to conduct the band and we all enjoyed his direction through the hymn tune Bradford, which Les had transcribed for the band many years back.
Les had remained active throughout his life, he was passionate about the band and attended almost every concert, his enthusiasm and appetite for banding never waned and even of late he could still be found at the bandroom at most senior band rehearsals.
Thank you Les.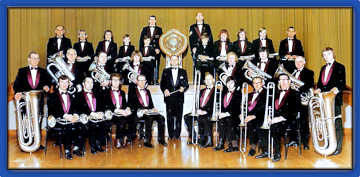 The Kirkbymoorside Town Brass Band remains your lasting and ever grateful legacy.
John Woodward on behalf of Kirkbymoorside Town Brass Band