Sat 14th March
- Gala Theatre, Durham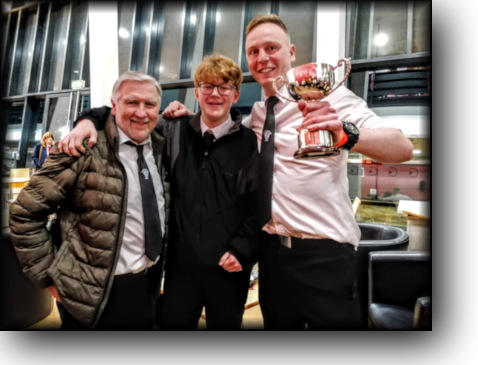 We will always remember our trip to the finals this year for the worries about the C Virus. But we did practice very hard and were rewarded with a third place, which we were OK with. Every one played well and the percussion section won 'Best Percussion'. We will have to wait and see what happens but let's hope we can continue banding during the next month or two?..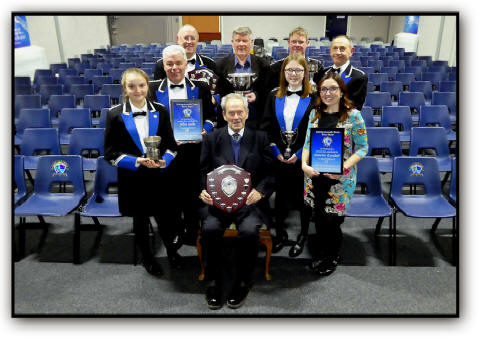 Christmas Concert 2019...

What a night with a full house and no seats left in the James Holt Concert Hall Great fun was had by all and we hope you enjoyed our second half fun and games with all the band trying to outdo each other in our fancy dress outfits. The prize winners were Grace Walker, John Sails, Jim Butler, John Woodward, Phil Woodward, John Barrett, Annabel Kent and Jeanette Kendall.
Next year will still be free to all but it will be ticket only. Keep an eye open for details of where to get tickets later in 2020.. Merry Christmas..
Help the Band by donating to,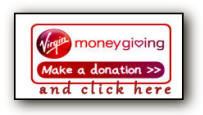 We have two CD's
Click Here for more info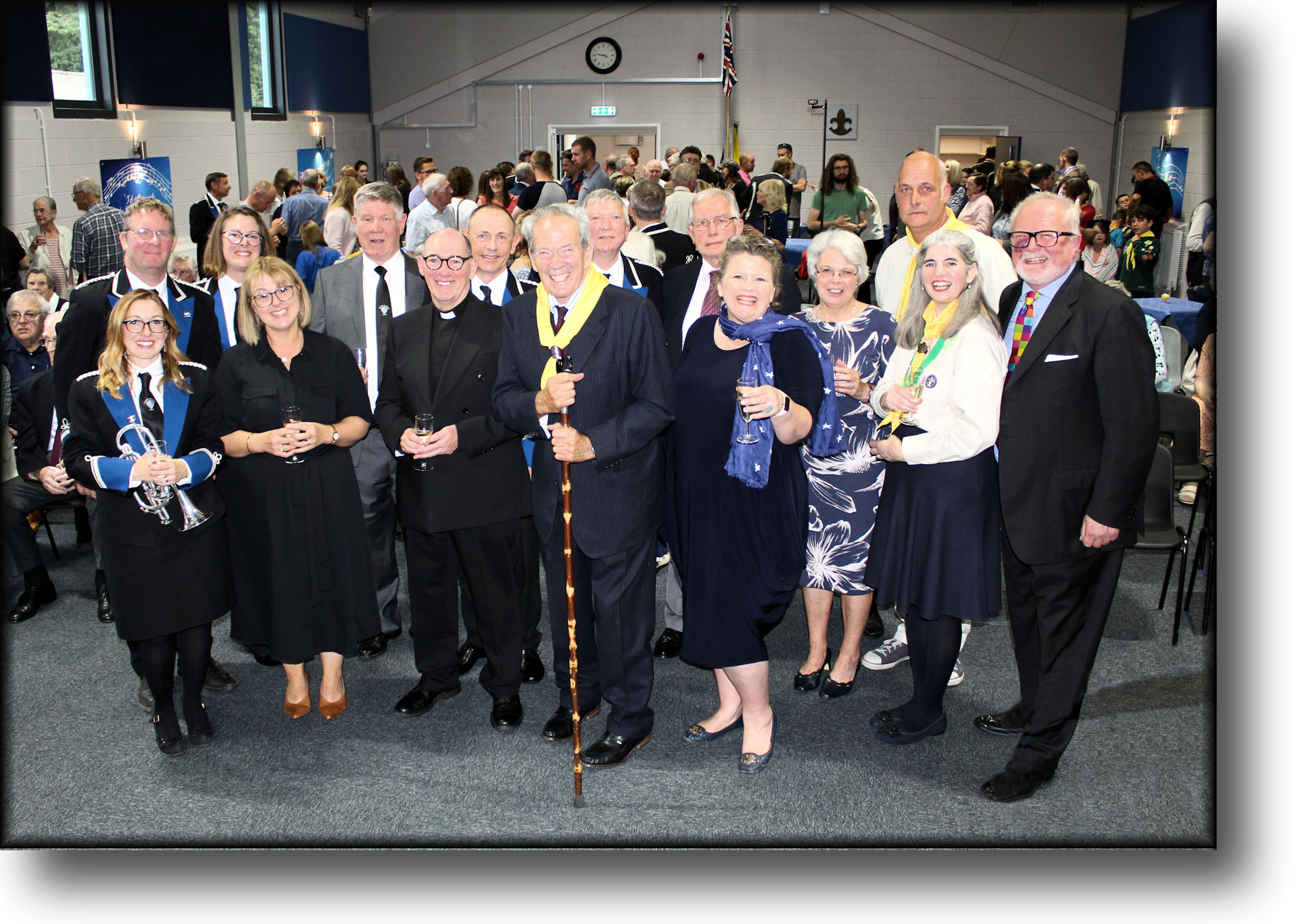 OUR NEW CONCERT HALL
Sunday 22nd September Thank's for coming to our Concert Hall opening. It was great to see so many of you there. We will have a full report here soon To see the details of the build and opening evening
Click Here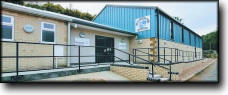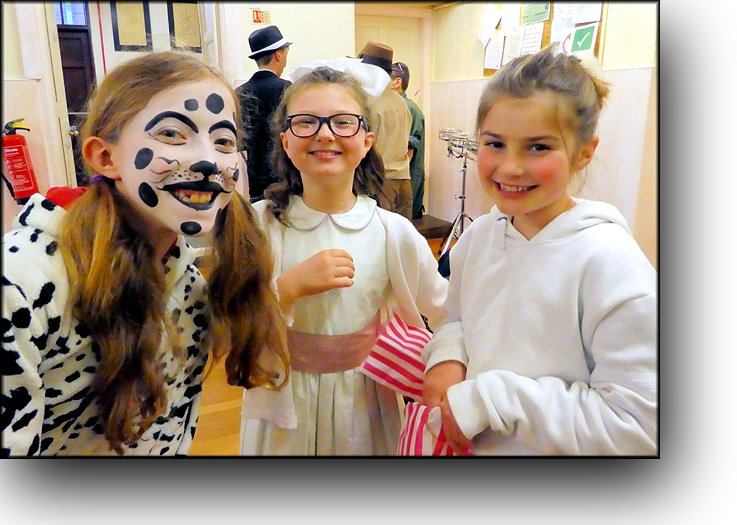 What are our Junior and Training bands are up to
We are proud to have 5 training bands which range from children and adults playing their first few notes to very competent grade 8 students. We have over 100 members in these groups and offer tuition, loan instruments and music free of charge.
.
Click Here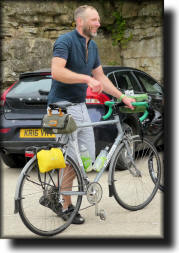 George Gold - London to Kirkbymoorside ride for the new Band Hall
After only a thirty year hiatus, I dusted off my trumpet and starting playing for the Community section of the Kirkbymoorside Town Band and I absolutely love it. It's amazing that a town the size of Kirkbymoorside can field the number of players they have. Travelling from North Yorkshire to London to see friends and family and for work over many years has often made me wonder about doing the journey on a bike, though perhaps not on the A1... Helping raise funds to finish the new band room provides an excellent excuse to finally do it. I will set off from King's Cross Station on Saturday 22nd June and will aim to arrive back in Kirkbymoorside the following day. The total distance will be roughly 230 miles and because Iím travelling from south to north, it will be entirely uphill! Well my target was 500 but by the time I reached the band room, the total had reached 1654.00.Well done George and THANK'S. A few more photos -
Click here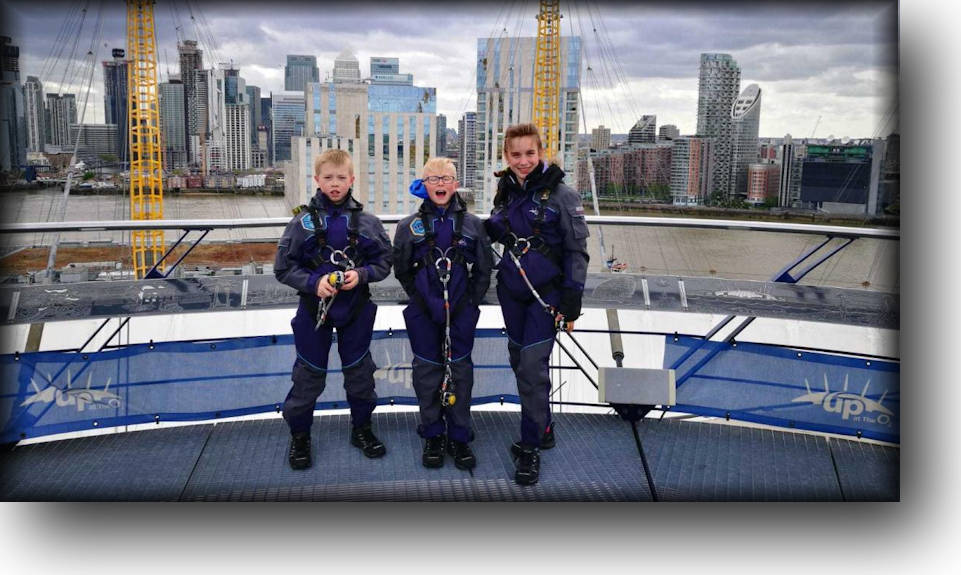 O2 Arena
Three of the bandís younger players, Charlie Flintoft, Ella Smailes, both aged 11, and Theo Flintoft, 10, travelled to London to scale the 02 Arena. The trio braved extremely harsh winds and rain to reach the top of the 100 metre high diameter structure. Leading the expedition they reached the top in just under 25 minutes In total the team, who play in the beginner, learner and training bands have raised more than £350 for the new band hall.
Easingwold March and Hymn Contest 1st June 2019
We thought we played OK, unfortunately the adjudicator did not agree. Never mind bring on next year. The marching adjudicator on the other hand, thought we were great and '1st on the march' was the prize. The training band played very well too and received a great ovation. Jeanette collecting the deportment shield Click here to see a video of the Training Band.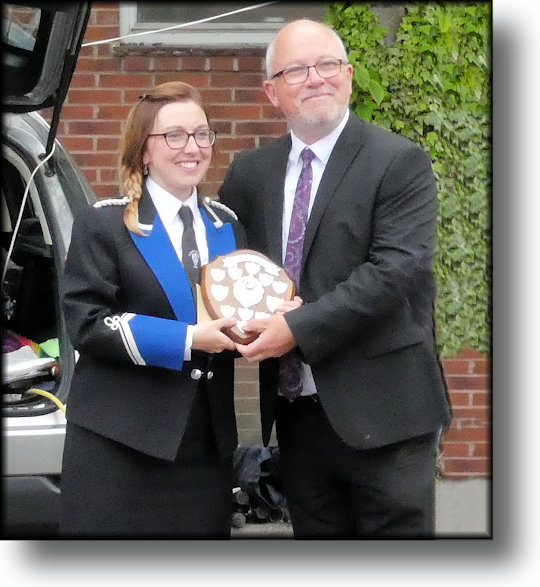 Yorkshire Concert Sunday 19th May 2019
Kirkbymoorside Memorial Hall What a great night of all things YORKSHIRE, Gods own county. Thank's for all the support for the band and we hope you enjoyed the trip around our wonderful county. A very very special thank's to Yorkshires own 'ADAM COLLIER' who had us all in stitches between the tunes. Don't forget phone calls to the almighty are charged at a local rate in any church in Yorkshire. See you at the next concert.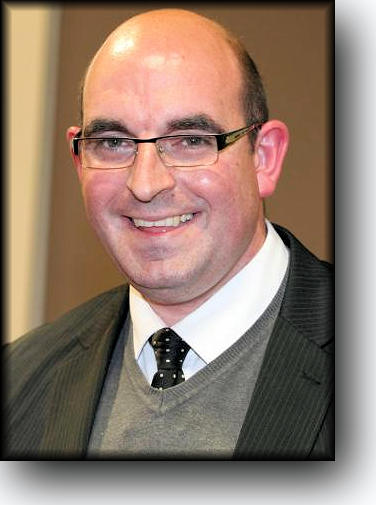 10k Run - Sunday 5th May 20019 Joe Sails and Matthew Baildon
Joe and Matt ran in the 10k run to raise cash, over £1000, for the new Band Hall. The band would like to thank them both for their time and and effort, especially Joe who ran with a bass strapped to his back. We played for most of the run and enjoyed the day in spite of the cold wind. Some of the competitors were actually sweating, Click the image for a bigger one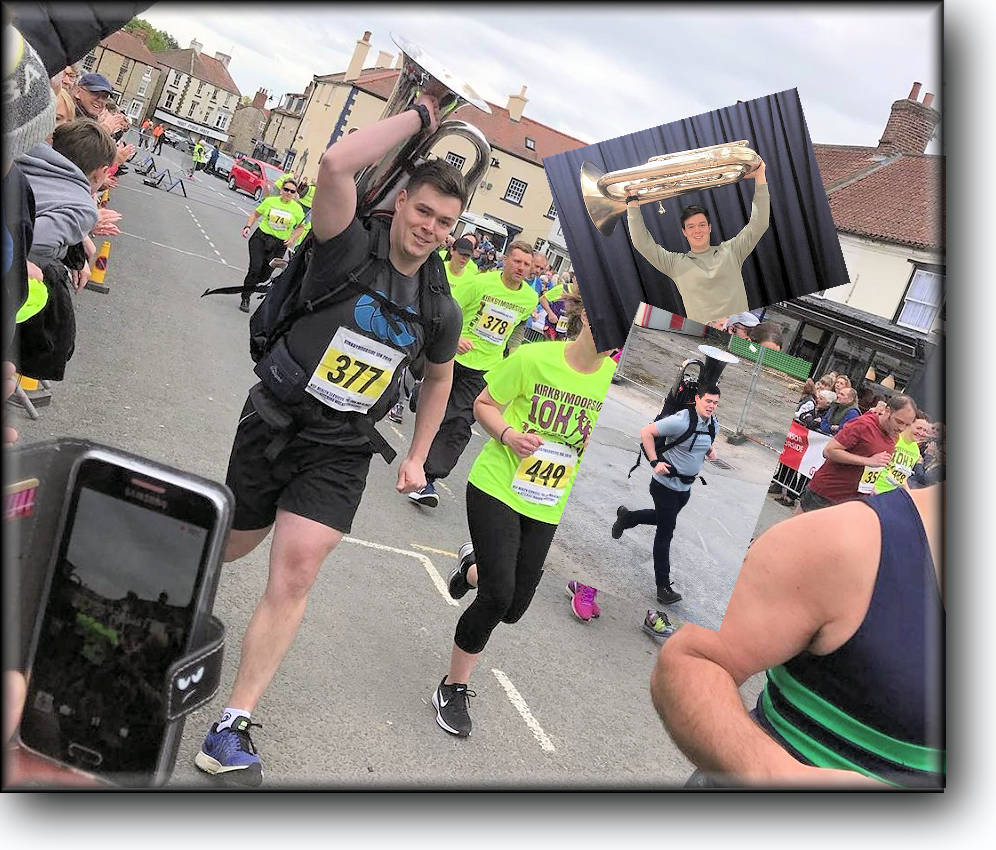 Saturday, March 16th, 2019 - Gala Theatre, Durham 2019 North of England Regional Championships
We finished in third place. We are disappointed not to be going to the finals but it was not a bad result.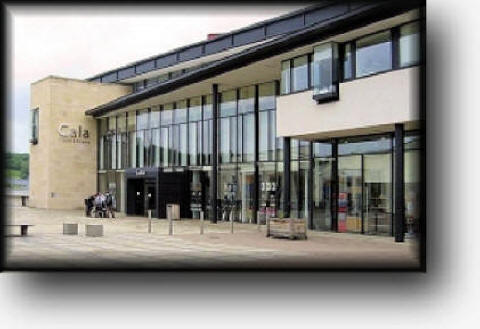 Sunday, March 3, 2019 Kirkby Memorial Hall
A good sized audience attended our first run through of this years Regional Test Piece, 'Symphony of Marches'. We felt it was Ok with six more practices, and we hope you all liked it. We were joined by our Training Band, Shining Brass & Community Band. They all played so well and were a credit to our tutors, thank's to all of them.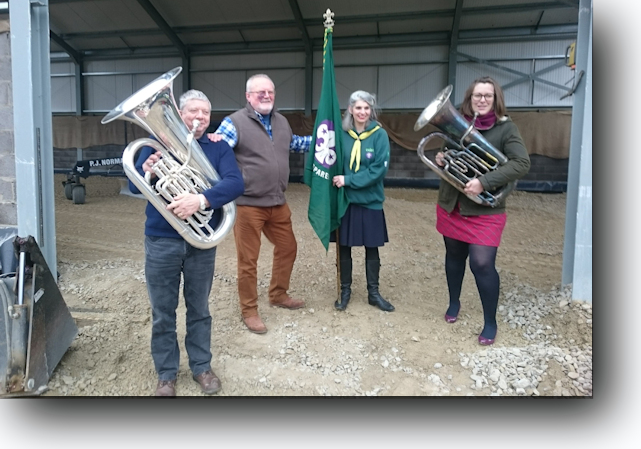 Band Concert Hall in Manor Vale Lane October 2018 the band was finally able to get started with its ambitious plan to build a Concert Hall CLICK HERE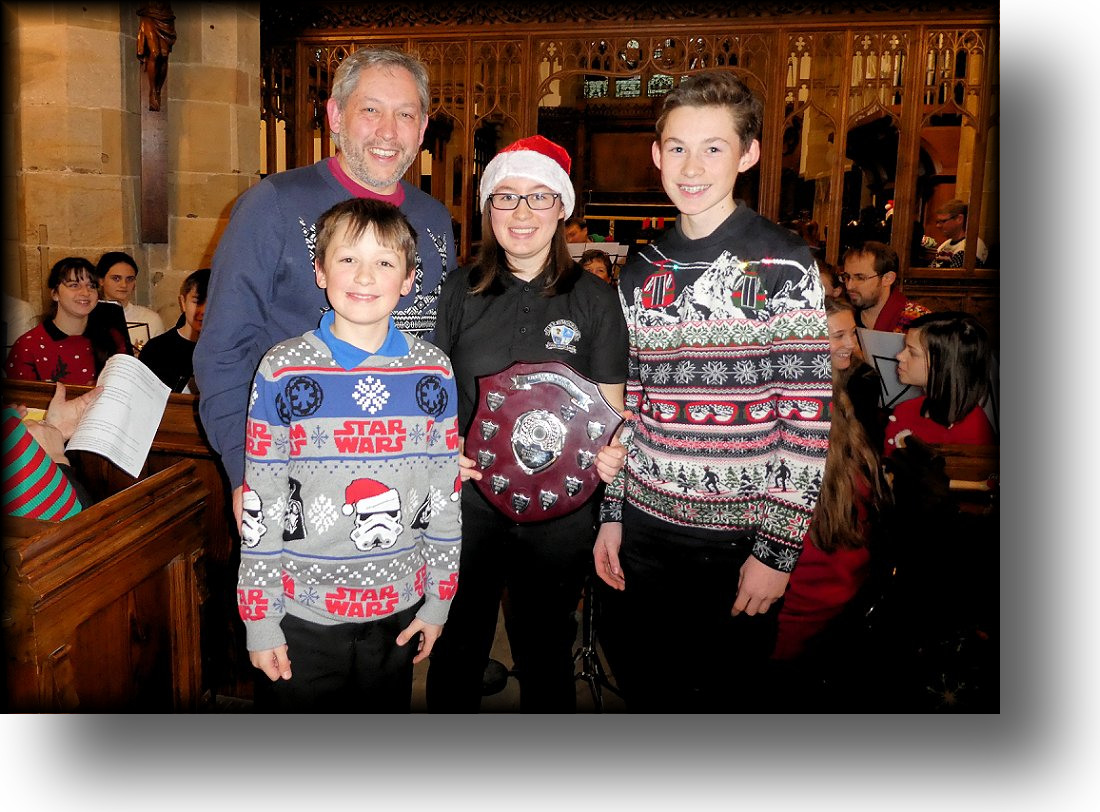 Training Bands Christmas Concert

All our five training bands played at All Saints Church on the 16th Dec 2018. What a concert it was with excellent playing from them all. Proud parents listened to the kids prove what a talented group they are. We can only look forward to a repeat concert next year. Photos Click Here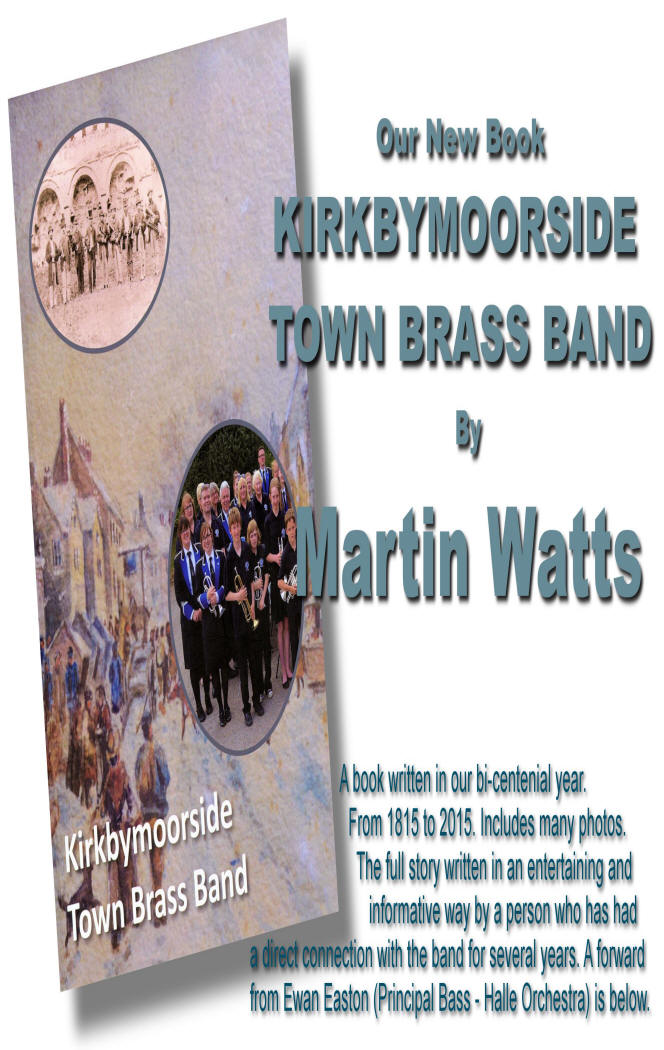 To find out
what it's all
about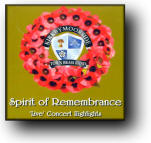 CD's
Click to see the
CD's we
currently have available

The band has an established noise policy Click Here

This page is all in the last year so click Here for older news

Click Here for older news
| | | |
| --- | --- | --- |
| | | QR Code for this web site |