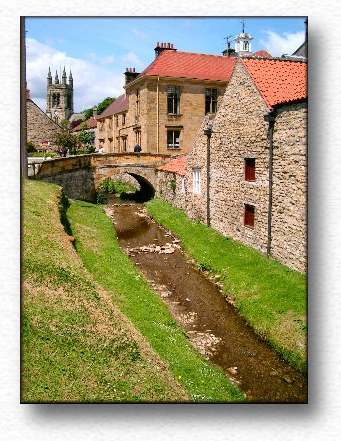 Helmsley is on the road from Thirsk to Scarborough and offers a welcome stop for refreshments and a well-earned rest. In the centre of the of the town square is a statue of Lord Feversham, not the current lord, but one of his ancestors. It stands in one of the most attractive villages in the country. It has a stream round the back of the square and pubs, restaurants and shops of the highest quality. The magnificent Black Swan Hotel in the centre of the village is said to have played host to none other than William Wordsworth who was visiting his future wife.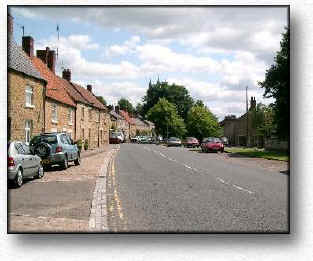 The castle is well worth a visit and can be found just out of the square. Built around1200 and was once known as Furstan Castle. Sir Charles Duncombe bought the castle after it was rendered useless by Oliver Cromwell. The current Earls of Feversham are descended from Sir Charles. The Fevershams live in the Vanbrugh built mansion, Dumcombe Park, just on the edge of the village. There is a very fine church just off the square and houses a letter written by David Livingston when he was in Africa.
Helmsley Walled Garden
...Visit the five-acre Helmsley Walled Garden, set against the backdrop of Helmsley Castle and Duncombe Park, which has undergone extensive restoration as a fully-working kitchen garden. The garden, originally built in 1756, incorporates glass houses designed in 1850 as a vine house; and there is a continuing programme of restoring the garden, using appropriate plants where possible. Come and watch this garden come back to life!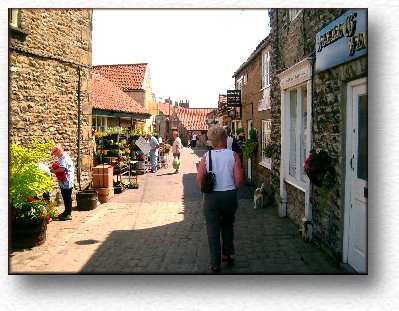 The Helmsley Arts Centre As always, we're offering a broad range of theatre, music, cinema, comedy, poetry, talks, exhibitions and workshop activities. And we're taking this opportunity to celebrate who we are and where we are, with a Yorkshire theme running through many events.
Nunnington Hall ... Four and a half miles south east of Helmsley, the hall is one of the best-maintained manor houses in the country. Dating from the 17th century, the house is situated in a lovely walled garden with peacocks strutting round the grounds. The house has a fine collection of miniature rooms, one eighth scale, each with its own furniture. Please ring for opening times....Tel. 01439 748283
Rievaulx AbbeyThis Gothic Ruin is the most stunning in the area. It extends over a large area and has space to picnic on a fine day. Audio guides can be hired and there is a gift shop to buy a momento of your visit. Tel. 01439 798228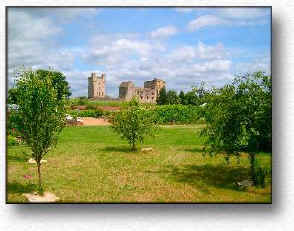 Rievaulx Terrace and Temples.. Situated on the escarpment above the Abbey, the terrace is a long grass walk with temples at each end. The views are tremendous and like the Abbey this is a good place to picnic. Tel. 01439 798340
Helmsley Castle. The castle dates from the 12th Century, and was later converted to a manor house. Tel. 01439 770442
Helmsley Pool.. One of the only pools in the uk still outdoors. Come and have a swim with the sun on your back Tel : 07772395368
Byland Abbey A beautiful abbey between Helmsley and Thirsk off the A170. Tel. 01347 868614
Helmsley has a it's own Web Site Take a look - Click Here
Patrick Leach
The Solitary Rambler

A film featuring Rievaulx Abbey, and includes a visit to Helmsley and the castle as well as Rievaulx Terrace:

The Helmsley Archive

Images of Helmsley and the surrounding villages and hamlets

The Carlton Lodge
Bondgate Helmsley North Yorks YO62 5EY
Tel:01439 770 557
Click Here


The Royal Oak
15 Market Place, Helmsley, York. YO62 5BL
Tel: 01439 770450
Click Here


Plumpton Court
High Street, Nawton, Near Helmsley, North Yorkshire
YO62 7TT
Click Here


Welcome to the Feathers
Market Place Helmsley North Yorkshire YO62 5BH
Tel:01439 770275
Click Here


The Black Swan Hotel
MarketPlace, Helmsley,
Yorkshire, YO62 5BJ
Tel : 01439 770466
Click Here


Stilworth House
1 Church Street, Helmsley, North Yorkshire,
YO62 5AD
Click Here


Redroofs B&B
3 Carlton Road
Helmsley
Tel : 01432771596
Click Here

Shops in Helmsley :
Hunters of Helmsley
Welcome to Browns
Saltbox Gallery & Workshop
Cut Price Books
Claridges of Helmsley
The Stick Man
William Sissons
The Topiary Tree