Napoleonic, Regency and Victorian soldiers of Ryedale.

Compiled by Paul Brunyee Adv Dip Ed, MA.
Major Michael Childers, 11th Light Dragoons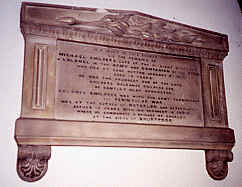 Churchyard at Sand Hutton. His headstone is also on the south side of the church, close to the iron gate
Directions; 7 miles north of York on the A64.
According to the entry in Charles Dalton's, 'The Waterloo Roll Call':
'Eldest son, by a second marriage of Chas. Walbanke-Childers, who assumed the latter name on inheriting the estates of his grandfather, Leonard Childers, of Carr House co. York. Michael Childers became jun. Lt.-col of 11th Dns. in 1820. C.B. Col 1837. D. at Sand Hutton, co. York 9th Jan., 1854, unm.