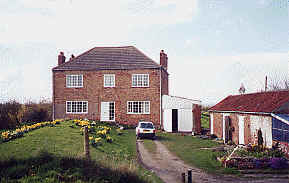 These notes are taken from his autobiography, privately printed for the author in 1904 and subsequently reprinted in a limited edition in 1979 by Mitre Publications of Brightlingsea.
Henry Franks was born at Newsham Mill, Little Habton, 2nd June, 1818. This hamlet is 7 miles to the north west of Malton, along the B 1257. The house is just to the north of the River Rye beyond Newsham Bridge Grid Reference: 747762 on the Landranger 100 map. His father was the mill tenant. Whilst he was still young his family moved to Tadcaster and later Thirsk. He joined the cavalry (5th Dragoon Guards) at Nottingham in 1839. He took part in the charge of the 'Heavy Brigade' in the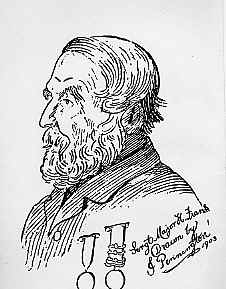 Crimean War. This charge took place an hour before the ill-fated charge of the 'Light Brigade'. Franks witnessed this disastrous charge and described it in his book. At the end of the war he became ill and was nursed back to health by Florence Nightingale in Scutari.
In 1862 he went to Canada as a cavalry instructor. His discharge document held at the PRO at Kew makes reference to this. He retired whilst in Canada and went to live with relatives in the USA. In his book he says that, 'I lived in New York and Chicago for some time.' He returned to England in 1871, finally residing in Dalton, near Thirsk about 1893.
Dalton burials 1889 - 1985 1652 Parish register
Henry Franks retired to and was later buried at Dalton: June 2nd 1909 aged 90,
Notes about Henry Franks
Some notes from Henry Franks' discharge document.
Conduct has been very good and he was when promoted in possession of one Good Conduct Badge and would had he not been promoted have been now in possession of Five Good Conduct Badges: he has the "Crimean Medal" with the clasps for Balaclava" "Inkerman" and Sebastopol" and the Turkish Medal.
Has been once entered in the Defaulters Book.
Has never been tried by Court Martial.
Height : 5' 101/2''
Complexion: Fresh
Hair Brown
Trade: Brick & Tile Maker