Thornton le Dale
When ever Thornton-le-Dale , a village of 2,000 people on the edge of the North York Moors National Park is mentioned, you think 'picturesque'. It is in fact one of the most picturesque villages in the UK
The 'le' in the village's name first appeared in the 1920s. Before that it was known as Thornton. The village was renamed Thornton Dale in the late 1800s, when railways came to the area, to distinguish the village from other Thorntons. Thornton Dale was voted prettiest village in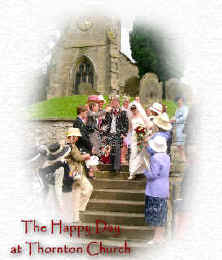 Yorkshire in the 1920s and 30s and -le- was added to give the name a bit more, 'marketability'.
The village is the next along the road from Pickering on the Scarborough road. Thornton-le-Dale is visited by tourists in the summer, but has lot's to offer all year round.
One of the most picturesque features of the village is the beck that runs through the heart of Thornton-le-Dale, and the Christmas lights are some of the best in the region.
The village is well served by shops and local businesses. The butcher's has a fine reputation and locals travel to the village on Sunday afternoons to sample the famous Ice Cream.
The photo at the top of the page shows a cottage that stands on the side of the beck and is admired by thousands of tourists every year.
The road to the north heads of to the Fox & Rabbit where it meats the main Whitby road from Pickering. To the south is Malton with Pickering to the west and Scarborough to the east.