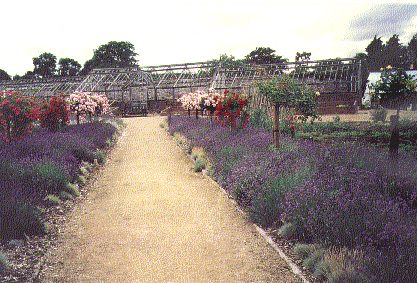 The Walled Garden for the Castle stood along the banks of the river to the south of the current garden. Soon after the family moved out of the castle into Duncombe Park this walled Garden was built. It was positioned partly with the lie of the land but also to maximise the different growing conditions produced by the different orientations. The walls were built in 1756/7 and remain unaltered. The garden was used to produce fruit and vege for the big house. A continuous supply of cut flowers and pot plants would : also been produced.
In 1850 the greenhouse along the walls were added and additional brick coarse were added to accommodate the extra height required. The vine house can easily be identified by the arches in the outer wall built to allow the routes of the vine to be planted outside. All the metalwork is still in good condition and will ultimately be restored. There are also records of a fountain being installed in 1850 to the pond, part of which was found when the pond was excavated. The fountain was probably gravity fed from a spring in the castle. We also excavated a clay lined brick channel which collected water from the greenhouses and fed the pond. The Victorians also typically added a display greenhouse along the central axis with an ornamental border leading down to it from the end gate.
In 1910 The Orchid House was built. In 1914 the estate stopped using the walled garden due to escalating costs. It was leased to a market gardener and during this period most of the original features and plantings were lost. He continued to use the garden until he retired in 1974. The Garden was derelict until Alison Ticehurst, a local GP's wife, wrote to Lord Feversham and took on the lease in August 1994. Alison spent the first two years putting the paths back, removing the rubbish and trying to control the weeds. In 1997 Paul Radcliffe joined Alison and the growing band of volunteers as the garden began to develop. In March 11999 the garden became a charity and was shocked by the sudden death of Alison. We now move ahead with the support of our Charitable Board with Alison dream to bring the garden back to life and restore the greenhouses.
Although the Garden is now a charity it still has to balance the books like any other business. Our main income comes from entry monies and plant sales. We also have a market stall every Friday in Helmsley.