In the centre of Pickering, housed in a Grade II* listed Regency Mansion, is Beck Isle Museum of Rural Life. Fifty yards or so from the railway station, the award winning Museum stands in its own grounds in a pictorial setting, with Beck side Picnic area, and a large Display Area to the rear.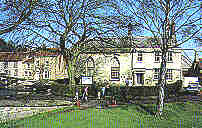 The 27 Gallery Museum is a time machine back to Victorian life. As you step through the portal, one is transported to a long gone period, pass through a Printers Shop of the turn of the century, with its magnificent Columbian Press of 1854, and cases of type, producing posters for the Museum. In the next Gallery models of farm carts, on the walls start of the "Sydney Smith" exhibition, photographic images ,capturing the atmospheric beauty of this rural area , and a way of life that was to disappear with the Second World War, the work of the late S. Smith the noted Pickering Photographer, an artist with a camera.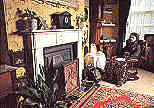 He had a feel for his subjects on a par with Frank Meadow Sutcliffe . More of his work is seen in the gallery of Photography ,with a collection of cameras and photographic equipment from I880. Further galleries, all set out as rooms or shops include Dairy, Cobblers, Village Pub, Chemist's, Costumes, Nursery, Village Store, Gents Outfitter, Victorian Parlour, Hardware Shop, Blacksmith, etc.
To the rear, a large collection of agricultural equipment, Carts, Ploughs, etc. After your visit rest or picnic on the Lawn and look back on a visit to remember, as you return to the modern world.
Interior Photo : Richard Clive, more at the bottom of the page
Opening Times & Special Party Rates Phone 01751 473653.